Oleg Lazarov, 47, is a serial entrepreneur and conceptualist working over the Internet since 1995. I'm the founder of Intelum - holder of a number of innovative e-business concepts and projects - a private entrepreneurial group of e-business brainstormers and inventors since 1995 that collaborates and researches in an effort to recognize strategic demands and market niches over the Internet.
I'm currently at the forefront of one of Web's largest groups of PR sites and platforms with the leading one being EuropaWire defining the next era of how companies and individuals reach out to the audiences that matter most for their PR messages, press releases and news announcements on the Web. Launched just a few years ago, 2012, EuropaWire (EuropaWire Ltd) is rapidly becoming the most authoritative news-wire in Europe and the European Union in particular handling the press release distribution of some of Europe's most prominent and influential brands, companies and universities. EuropaWire is also the first truly pan-European news-wire service giving Europe a consolidated voice in the global news-wire and media landscape. I'm the founder and co-owner of EuropaWire and currently serving the news-wire as its Editor-in-Chief.
I have also founded and co-own TravelPRNews.com, the native digital platform for the travel pr news online, which is currently one of the top 3 press release distribution and news-wire services, and #1 in terms of number of big travel brands appearing on its news-wire, for the travel and leisure industry handling the press releases of some of the biggest names within the travel industry globally.
I'm also the founder and the co-owner of EPR Network LLC. EPR Network (EPR stands for express press release) is one of North America's leading 2nd tier press release distribution networks. EPR Network manages, operates, and/or is affiliated with 12 U.S. State based PR sites, 37 industry-specific PR blogs, a major PR forum and the Real Time Press Release Distribution platform. Being one of the innovators within the PR sector online over the past 10 years, EPR Network is again working on a few innovative PR projects like Consolidated Press Release Distribution, Social Press Release, and Early Bird Press Release, among others. What started as a hobby over the Internet 16 years ago (2004) is one of the top 10 press release distribution and news wire services on-line today with more than 10,000 press releases distributed per month.
EPR Network has dealt with the press releases of thousands of clients around the world including global 500 brands like Hilton Hotels, Barclays Bank, AXA Insurance, BP (Castrol), Tesco UK, eBay/Skype, Lloyds TSB Group, Prudential, Marks & Spencer, Emirates, just to name a few. The network's PR websites are currently reaching from 150,000 to sometimes 500,000 unique visitors per month while its viral reach could possibly go to as much as 1M people per month through its presence and activities across various social media sites. Established in 2004, EPR Network has since then grown to over 50 PR related sites under management and disseminated more than 1 million press releases via its PR and news-wire sites.
One of my most progressive projects I used to be part of and engaged with is LinkedWords.com, an innovative contextual platform built upon tens of millions of English words and phrases organized into contextual categories, paths, and semantic URLs whose mission is to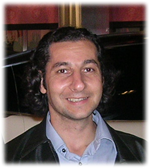 maximize contextual linking among websites across the Web. Think of LinkedWords (LW) as "social networking site" aimed at and meant for websites instead of people. The way people connect to each other, gather together in family, friend and professional groups by interests at social networking utilities like Facebook™, MySpace™ and LinkedIn™ the same thing websites do at LinkedWords.
There websites get contextually linked in LW's platform on a content area level through targeted linked words to connect to each other on relevancy principles and group by context and by interests in an effort to become more visible and be found in context on the Web. Networking your web site among and in competition with more than 100M* websites (*data circa 2006/2007) worldwide has never been an easy thing to do, but sites contextually linked in LW' platform are gathering together by context, relevancy and interests to stand out, share targeted communities, users, visitors and reach to potential clients all for free. So it seems LW is the first and only "social networking site" not for people, but for websites. In other words, LW does for websites what popular social networking sites do for people!
Launched in 2006, LinkedWords has rapidly grown to a multi-million dollar ($US30M+ at the time, perhaps $US300M in today's money) web property (1M+ unique visitors per month, 37M+ web pages and over 100,000 contextual backlinks) and during its apogee (2007-2009) it reached to over 20M unique visitors* (* at the time it was roughly 3% of the entire Internet population, according to comScore. In 2019/2020 figures it would mean roughly 140M annual reach) thankfully to and derived from more than 100,000 content areas from around the Web contextually linked in its platform through targeted linked words.
I'm the founder of LinkedWords and was the CEO of LinkedWords.com LLC, California as well as the executive director of XP Solutions Ltd. (xps.bg), Bulgaria - LW's in-house IT firm. LinkedWords has been backed by private investors from Monte Carlo, Monaco and its holding structure was organized as LinkedWords SCP in Monaco. The project has, unfortunately, fallen a victim of its rapid and massive growth and our inability to fast enough secure the adequate financing needed to support its scale and hyper ambitious goal, and namely becoming an alternative of Google by giving users on the Internet the option of finding relevant / related information in the context of what they are currently reading / viewing on the Web without the need of searching. With this concept we simply aimed, at the time, at capturing some 1% to 3% of the search market online, which was back then estimated to be worth in the range of $1-$3 billion.
Back then (circa 2009-2012) I was co-founder of a large-scale by plan project where we were trying to put up a platform online capable enough to explore and discover web errors, based on a number of both scalable and dynamic parameters and criteria, in a vast array (10+ million) of websites around the Web called ErrorExplorer.com. The project did not reach actual development stage at all due to the early realization of the fact it was going to be a pretty colossal platform by size and would take an immense amount of resources to make it happen and the project was logically retired around 2012.
I'm also the founder of EXIM Group (2002), a group of Import/Export industry B2B sites and portals sold to a group of private investors back in 2004, which later became EXIM Internet Group, Inc., a US public company, for which I served as President & CEO for a few years. In the past 25 years I founded, co-founded, owned and engaged myself in a number of other companies such as Omega Commerce Ltd., export/import business (1995-1996), Omega Telecom Ltd, Internet, Extranet and Intranet developer (1996-1998)., DollarHour Rent a Car Ltd., an innovative hourly based car rental service (1999-2000) and WOW Stores, Ltd., small chain of mini Candy & Chocolate stores (2005-2006).
I'm interested in all things Internet since its mass adoption by conceptualizing various ideas in an effort to take on giants, disrupt business models and address unmet market needs over the Web. On the technical side of the Web I am interested in all aspects of the contextualization of Web, semantics, data mining, taxonomies, intelligent content tagging, textual analysis, smart robots and large-scale Web based data structures, concepts, models, etc., and in more recent years in AI, ML, algorithms, Big Data, among others. On the marketing side of the Web I am interested in all aspects of public relations, wire services, press release distribution, seo, and the social media...
An interesting noteworthy project, derived from my work in the space, I used to be part of and co-founded, is NosyJoe.com. NosyJoe is a hybrid of a social search engine that relies on you to sniff for and submit the web's interesting content, an intelligent content tagging engine on the back end and a basic semantic platform on its web visible part. NosyJoe then applies a semantic based textual analysis and intelligently extracts the meaningful structures like sentences, phrases, words and names from the content in order to make it just one idea more meaningfully searchable. This helps us present the search results in basically meaningful formats like readable complete sentences and smart phrasal, word and name tags. Although the project has never had the chance to go out of private (closed) beta it has twice been mentioned by the mainstream media Newsweek (October 29, 2007) and The New York Times (June 24, 2007).
I am also interested in the philanthropy industry where I used to work for the progress of a large-scale, innovative hybrid non-profit/for profit web-based project in the space of the law, globally. I hold a bachelor's degree in business administration and have specialized stock markets as well. My hobby is ancient and more particularly Paleo-Balkan, Thracian and Bulgarian history. I'm a native of Bulgaria, EU, my current residency, but I also love the Philippines, Silicon Valley, California and Monte Carlo, Monaco. Happily married to Sheryl Rivera - my wonderful wife who unconditionally supported and helped me throughout the past so many years in building up all the things worth mentioning herein. Proud parents of a beautiful as well as very curious and rebelish 9-years old daughter Sofia Lazarova. I can currently be reached at info (at) europawire.eu or at the contact pages of each of the companies mentioned above.
Last revised on Dec, 2020; previously revised on Apr, 2017, Jun, 2015, Jul 2012, Mar 2010, Nov 2009 and Nov 2008